There is now a quick and simple way leading to the suitable chiller with very few clicks. AMS Technologies has just released a web-based selection tool for thermoelectric and vapor compression chillers with nominal cooling capacity ranging from 160W to 11kW.
---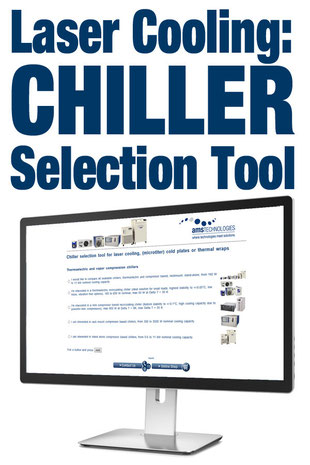 Whether thermoelectric or compression based, stand-alone or rackmount: you at first select the type of chiller you are looking for. Should you not be sure about what type is the most suitable one, you can make a comparison among different types.
The click on the type leads you to a page where you can enter your required values: cooling capacity, coolant fluid set temperature and ambient temperature. The next page shows you an overview of the chillers that fulfill your cooling requirements including a comparison of their cooling capacity in a diagram. You can now download the datasheet or, where applicable, configure your chiller directly in the tool. For the configuration of the chiller you can select pums, fans, fittings and other options. The tool gives advice about input power, recommended options based on your selection. 
Try it now: chiller selection tool
Dowonload our brochure about laser cooling
---