The excimer lasers available from AMS Technologies have already been installed in a variety of applications both in industrial and R&D environments.
---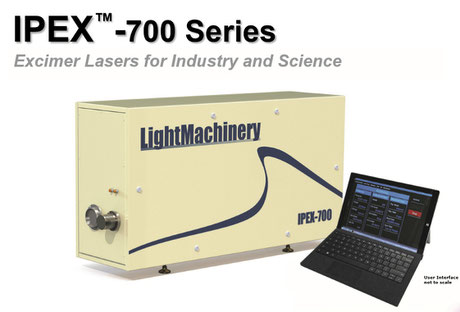 Today we would like to introduce a new excimer laser released by Lightmachinery, leading manufacturer of high quality excimer lasers (earlier sold under the Lumonics brand). 
The IPEX-700 series was designed to offer a new line of excimer lasers for medium duty cycle operation. They deliver the exceptional performance, gas lifetimes, reliability and ease of integration demanded by researchers and systems integrators. They are well suited for a broad range of applications including for instance pulsed laser deposition, PLD. 
These lasers feature:
Superior, extended gas life time, leading to lower running and maintenance cost  

Much smaller foot print 

Full computer control (lap-top computer included with laser)

Top class performance / specifications

A variety of models, with different repetition rates and pulse energies

Air cooling, up to 25 Hz repetition rate

Single phase electrical power
Click here for product specifications