SmartTables are an elegant combination of Newport's IQ® active damping technology, user friendly design and extensive manufacturing experience.
---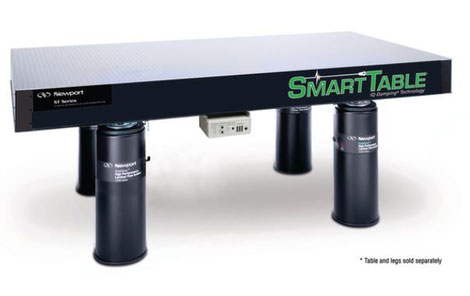 It is the first and only actively damped optical tabletop in the market, leading the revolution of smarter vibration control products that are able to optimize performance specific to the user applications.
The core of the SmartTable is an advanced damping technology called Intelligent Damping (IQ). It effectively addresses the medium frequency resonances of optical tables by incorporating two pairs of sensor and actuator in the optical table design and use an external controller to coordinate the signal processing, enabling the fast and accurate damping response for optical tables. Each sensor-actuator pair is controlled by a separate control channel. The sensor senses the vibrations and the actuator outputs signal to compensate for the vibrations. The pre-amplifiers and band-pass filters condition the sensor output signal before feeding it to the digital controller. The digital controller implements recursive filters that compensate for the dynamic response of the shaker and correct the phase to bring the phase difference between the displacement and force close to (-π/2) in the desired frequency range.
Optical Table Pre-installation Checklist
Optical-Table-Pre-installation-Checklist
Adobe Acrobat Document
1.3 MB
---